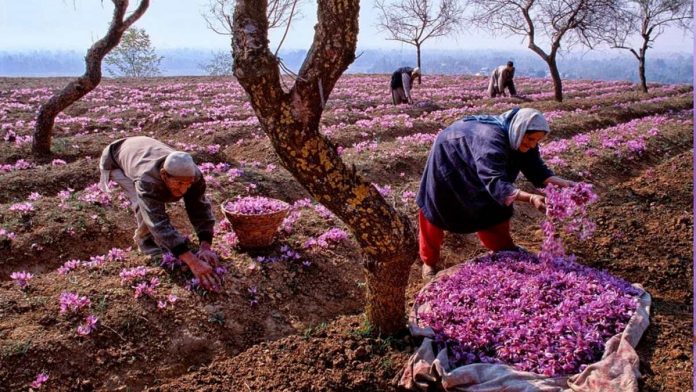 Srinagar: The Kashmir valley finds itself in the throes of a saffron surge, literally. The right amount of rain at the right time has tripled saffron harvest this year, bringing some cheer for the local farming community as it comes to terms with a battered apple harvest.
From 5-6 tonnes in 2018, saffron harvest this year is expected at 16-17 tonnes, according to an assessment conducted by the Jammu & Kashmir agriculture department.  
Saffron is a prized spice used as a taste enhancer in dishes as different as a savoury biryani and a sweet kheer. It is also said to provide a range of medicinal benefits. In India, it is cultivated primarily in Jammu & Kashmir and can yield up to Rs 3 lakh/kg, with each hectare resulting in approximately 4.5 kg of the spice.
Around 3,700 hectares are currently under saffron cultivation in Jammu & Kashmir.
Speaking to ThePrint, Agriculture Director Altaf Aijaz Andrabi explained the reason behind this year's windfall harvest.
The period between 2016 and 2018, he said, was considered a dry spell for saffron — not because it did not rain or snow, but because precipitation did not take place at the preferred time.
"Saffron is an extremely delicate flower and needs a typical weather type to initiate the physiological process… A slight change in weather can either destroy the crop or make it flourish," Andrabi said.
The senior official said the period from 27 October to 7 November is most crucial for saffron.
"Kashmir receives its maximum rainfall during this period, and even light snowfall in the first week of November… is beneficial for the crop," Andrabi added. 
"What happened this year is that there was rainfall on 22 and 23 October, which could not have come at a better time," he said. 
"The rains brought the temperature down. The subsequent increase in temperature from 25 October breathed life into the crop," Andrabi said.
This fluctuation in temperatures is what the saffron crop needed. "Most of the saffron was harvested before the 7 November snowfall… We expect a bumper crop this year," he added.
Right climate for saffron this year
Saffron, which has not been able to flourish over the years because of climate change, has not survived the weather onslaught unscathed either.
Saffron Growers Association president Abdul Majeed Wani said this year's produce could have been even higher but for the 7 November snowfall. 
"The produce was extremely good. The rains took place at a time when they were needed the most, resulting in an impressive germination," he added. 
"As a result, even the seeds that are produced annually increased massively but nearly 35-40 per cent of the produce got destroyed due to the snow," Wani said. The government, however, claims only 5 per cent of the saffron produce was not harvested.
Officials said saffron cultivation in Kashmir has yet to achieve full potential despite the local harvest being better than that of the world's largest saffron producer — Iran, where the flower is being cultivated over 30,000 hectares.
At its peak, saffron cultivation only accounted for 5,700 hectares of Kashmir land.
(Edited by Sunanda Ranjan)
Copyright © 2019 Printline Media Pvt. Ltd. All rights reserved.
This site contains copyrighted material the use of which has not always been specifically authorized by the copyright owner. We are making such material available in our efforts to advance understanding of political, human rights, economic, democracy and social justice issues, etc. We believe this constitutes a 'fair use' of any such copyrighted material. The material on this site is distributed without profit to those who have expressed an interest in receiving the included information for research and educational purposes.